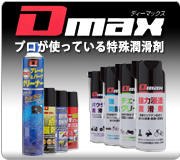 Daito Co,Ltd.
Head Office・Tokyo Branch
Showa Build.3F,12-8 Nihonbashitomizawa-cyo,
Cyuo-ku,Tokyo 103-0006
TEL 03-3669-4511
---
Osaka Branch
5-11 Shinden-nakamachi,
Daito-shi,Osaka 574-0056
TEL 072-806-7661
---
Nagoya Branch
No.41 Ocean Build.202,
1-5-27 nishiki nakaku,
Nagoya-shi,Aichi 460-0003
TEL 052-229-0066







used in such scenes as car races requiring ultimate quality,all auto and motorcycle maintenance,and various machine maintenance.
The "D max" series are a package of special lubricant agent for personal use, which have met requirements of professional mechanics.
They support particular car and motor cycle lives, all tool maintenance, and home maintenance with professional quality.
They are lubricant we want to have all people who seek outstanding lubrication performance use.



A long-sustained multi-purpose lubricant agent composed of organomolybdenum and characterized by superior permeability and lubricity. Being water displacement, it produces an effect to use wet places.


Use application

Door hinges and nuts for heating purpose, and muffler joint parts of cars and motorcycles.
Lubrication and rusting control of household appliances, home electric appliances,various machine tools and fishing gear




A long-lasting rusting control producing an effect to deal with sea breeze, tide water and potassium chloride.
Being water displacement, it produces an effect to use wet places.


Use application

Easy-to-rusting parts such as internal suspension fenders and door hinges of cars and motorcycles, etc.
Long-term storage and rusting control of machine tools and farm equipment




A chain grease characterized by superior water resistance and heat resistance to general lithium grease.
With little scattering, it lasts lubrication effects for a long time.


Use application

Chains of motorcycles and bicycles, car doors, hinges of luggage rooms, etc.
Grease performance increase of flexible parts of machine tools, farm equipments, etc.




A special lubricant agent composed of boron nitride and characterized by superior permeability and drying with gumless property, and garbage and dust resistance.
Its coefficient friction is low and offers resistance to high temperatures up to 900 degrees Celsius.


Use application

Pulleys, belts, keyholes and piston rods and shafts shock absorbers of cars and motorcycles,and sonant resistance of power windows of cars, etc.
Home window sashes, sliding doors, etc.




The compact type of DM-005. Easy size for use. For key holes, of course, we recommend this for every part including hinge, sliding part of the drawer of desk that can pile up dusts with the use of ordinary lubricant. After drying, this creates powdery, smooth surface, which prevents dusts from attaching.


Use application

Every type of key hole. Hinge of doors, sliding parts of windows, sashes and closets. Kick stands of bicycles and motor bicycles. sliding parts of the desk's drawers.
For cars: piston rods, shafts, belts. For power windows to prevent from creaking.




This keeps high cleansing ability by the synergy effect from petroleum hydrocarbon and alcohol. Ideal for both grease and break fluid. A convenient, medium dry-fast type cleaner. Can be used upside down. Sufficient quantity of 850ml with the concentrate solution of 608ml.


| | | |
| --- | --- | --- |
| Use application | | |
| For break parts, or for contaminated parts with oils or metal powder. | | |




The uneven contact surface can be made flat by embedding grease, so as to maintain a stable contact surface and to protect the contact by preventing abrasion caused by sliding movement. This product was developed to prevent electrical contact problems. Different from conventional agents for temporary contact recovery, the effect is long lasting and contributes to stable electricity supply.


Use application

Suitable for contacts of battery terminals, coupler terminals, sliding switches, knife switches, electrical switches in automobiles, antennas, personal computer USBs, etc.

■Caution: Read the user instruction before use, and strictly follow instructions on parts where application is prohibited.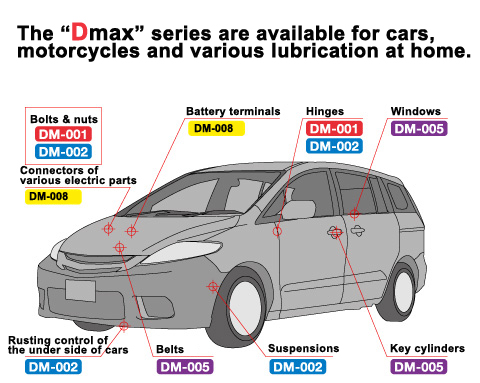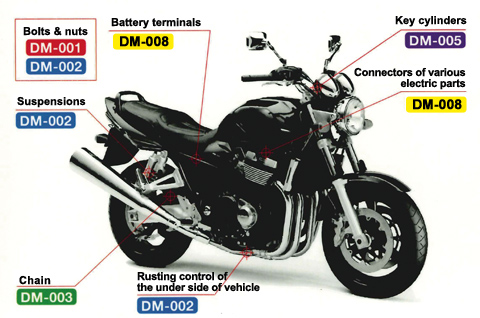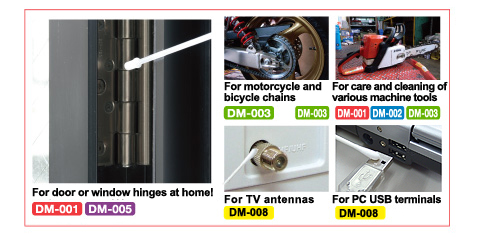 go to this page top ▲